I'm super behind on blogging this month, but when my cousin mentioned that she was looking for a Save the Date for her upcoming nuptials, I just couldn't resist searching the archives of some of my favorite wedding blogs . Though I quickly found exactly what I was looking for, I couldn't help digging through the DIY archives and luckily I turned up a few jewels.


I LOVE the
DIY Coaster favors
that I found on my visit to Style Me Pretty, and thought that instead of wrapping them up as favors, why not use them to add a little flavor to your soiree. Pair them with matching
DIY stirrer tags
(Project Wedding), and you've got a drink area that reflects the style of your party. Some hardcore DIYers (read BRIDES) have even taken to printing their own
custom cocktail napkins
via Gocco machines.
Want a bit more WOW! try a Dabney Lee ice bucket made to order.
Yes they are super cute BUT if you can't swallow paying $60 for an ice bucket... no worries. Grab a cheap ice bucket, like the jumbo one pictured below from
The Container Store
, and use
contact paper
to create your own custom sticker for your bucket.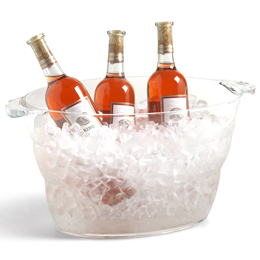 Image:The Container Store


Now all you need is your signature drink... CHEERS!
Your Resident Spashionista!